At NEMS® we strive to please our customers every day. Our values Care, Challenge and Curious are our motivators and guidelines when working with our clients and developing our software solutions.
To further understand how we are performing and how we can improve ourselves we have started with annual user satisfaction surveys. We have chosen to use Net Promoter Score®(NPS®).
The results of the survey are calculated from one simple question: How likely is it that you would recommend our product to a friend or colleague on a scale from 0-10?
The scores and the value of them will differ based on if you are a B2C or a B2B company, as well as what industry you are operating in and your geography.
We are extremely pleased that our Oil & Gas Operator respondents gave us a an NPS® score of +33%.
In our survey 50% of our users were Promoters, 33.33% are passive and 11.67% are detractors.
This tells us that we are on the right way, but we are far from resting on our laurels.
We see many opportunities ahead in how we can further improve the day to day life of our users. We aim to have more frequent releases of valuable functional improvements throughout the coming year.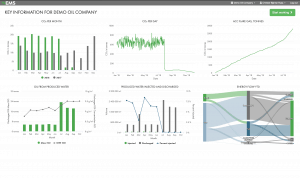 Last week we released a KPI Dashboard for all our NEMS Accounter® users, enabling our users instant insight into the heartbeat of their operations straight after login.
Further data driven insights like this are also available via our analytics module. Feedback from users so far has been very positive and we have identified even further opportunities.
Initiatives like the Dashboard and other future releases will provide even further value to our users and we believe this is one of the ways we will improve our NPS® score in the years ahead.
NEMS® – Compliant By Nature®
"Net Promoter, Net Promoter System, Net Promoter Score, NPS and the NPS-related emoticons are registered trademarks of Bain & Company, Inc., Fred Reichheld and Satmetrix Systems, Inc."
The N® logo, "Compliant By Nature®" NEMS® and NEMS Accounter® are registered trademarks